Digital transformation
The information below is taken from the SAGA website, the leading company in the group in which we operate.
DIGITAL TRANSFORMATION SERVICES
DIGITAL TRANSFORMATION SERVICES
---
Digital Transformation Consulting
Business Model Assessment
Digital Capabilities Assessment
Infrastructure, Data, Applications, Front End
Business Model Innovation
Data Analysis
Process Analysis
Touchpoints
Data Processing & Analysis
Value of Information
User Experience
Digital Transformation
Defining IS architecture
Omni—channel
Automation
Integration of new solutions with the existing one
Outcome
New Digital PM for Digital Economy
Digital Products and Services
New Business value for Clients
Constant measurement and adjustments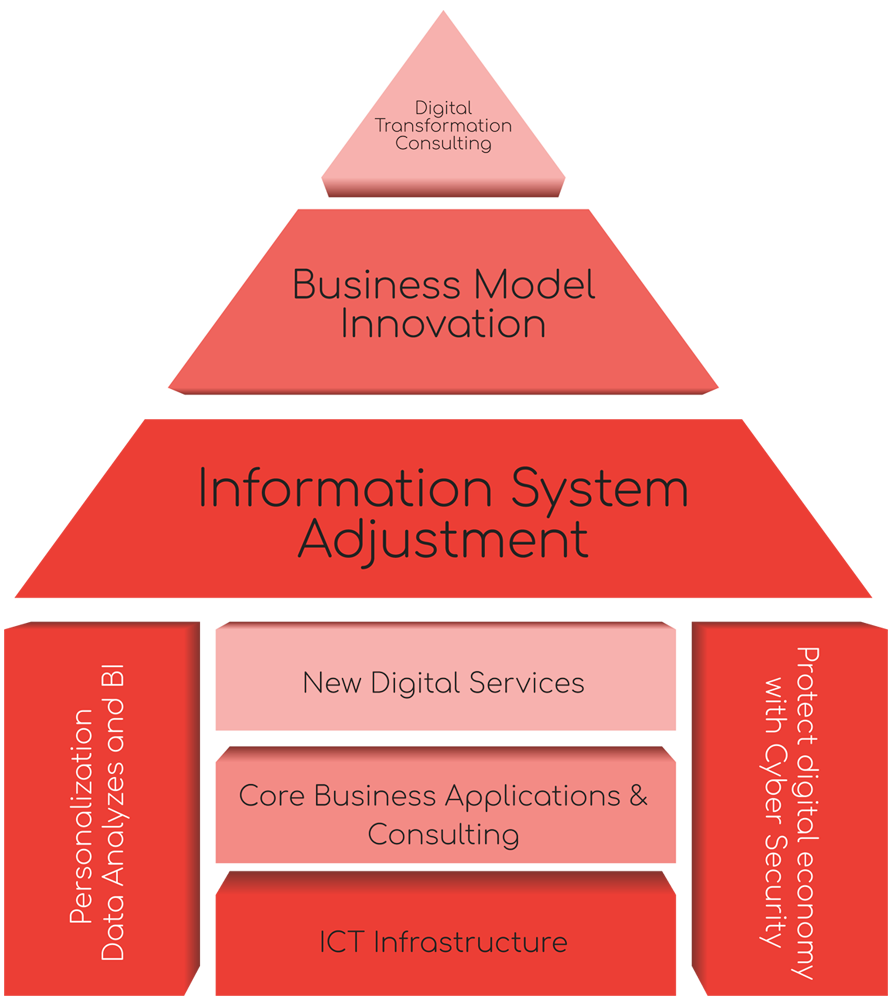 Digital business transformation is a process that takes place in stages. Each of them aims at the final result of meeting the needs of a particular company and its business model.
• Define strategy - Digital Transformation Consulting
It all starts with a consultation. The first and most important step in a journey called digital transformation involves engaging our team of consultants. In this initial phase, current business models and capabilities of digital services are analyzed through a comprehensive business assessment (data analysis, process analysis, points of contact between clients and the company, data processing, value of information and their structure, user experience). After that, a workshop is planned and executed during which the CxO level of management is introduced to the business model of digital transformation. The outcome of this phase is a harmonized proposal for a digital transformation business model and an execution plan.
• Execution Planning – Digital business model innovation
The aim of this phase is to cover all new aspects and impacts of the agreed business model with new digital services. For this purpose, a complete new assessment of the new business model is made, a new information system architecture is defined, all communication channels (omni / opti-channel), process automation and integration are analyzed. The outcome of this phase is an agreed action plan for digital transformation.
• Implementation and realization of digital transformation - Customization of the information system
The final phase is the most serious step in which it is very important to determine the right scope and dimensions as well as align the new information system with all key hardware pillars, old / new basic digital services and real-time analytics applications as well as all aspects of cyber security for the entire IT system . As the main reason for the failure of projects are people and their willingness to embrace change and the new business model, at this stage, education is also key to the success of the WW Digital Transformation project.
Although it serves to bring digital transformation to its destination, this final stage is nevertheless a "never ending story." It seeks to organize continuous cycles of analyzing and improving the business model through the adoption of new digital services and a customer-focused approach.
The previous and following information was taken from SAGA, the leading company in the group in which we operate. More details about this product at www.saga.rs.
FOUNDATION OF SAGA DT PYRAMID:
---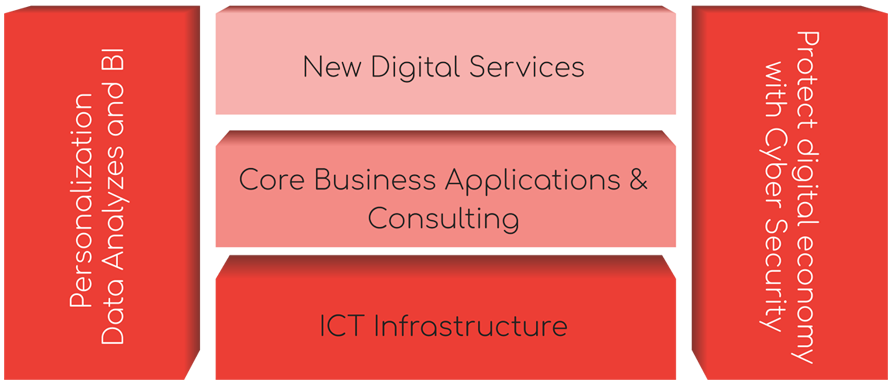 • Personalized Data Analysis and BI - Information Management
• Protection of the Digital Economy with Cyber Security
• New Digital Services - OwnIP, Custome sw, CC&CRM, IM
• Core Business Application & Consulting - OwnIP, Custome sw, IM
• ICT Infrastructure - Network, Cybersecurity, DataCenter, Midlware, Public Cloud
SAGA Consulting Services:
• Digital Transformation Workshop
• Digital Readiness Assessment
• Infrastructure Assessment
• Data Assessment
• Process Assessment
• Applications Assessment
• Security Assessment
• Digital Initiatives Assessment
• Digital Consulting
• Digital Transformation Consulting
• Digital Transformation Execution
• …
SAGA digital products, solutions and services:
• Private Cloud consolidation
• Hybrid Cloud and integration solutions
• Robotization and Automation
• Chat Bots
• CRM / Operational CRM
• AI / IOT
• Call Center
• Debt Collection
• Personalization
• Authorization and Identification
• SOC, Security services
• NOC, Network services
• Proximity Marketing
• Digital Banking
• Ecosystem Platform
• Employee Engagement
• BES
• …